5 Best Vegan Restaurants in Seminyak, Bali
Before heading to Bali, I struggled to discover many comprehensive guides on where to find the best vegan food in the area, so I am writing this post to ensure that you'll know exactly where to go if you're looking for vegan food in Bali—more specifically, Seminyak!
1. SHELTER CAFE
Shelter cafe is probably the best place to go if you're taking vegans AND non-vegans with you! They have plenty of meat options, BUT I think they are famous for their vegan food. When I first entered this restaurant, I felt like I was walking into a jungle; because of the location of the restaurant, tree branches and other plants are also welcomed in—adding to the homey and natural vibe of the location. A subsection of their menu is dedicated to Nalu Bowls, a brand that serves beautiful and refreshing smoothie bowls (images below)—including a secret-ingredient acai bowl, a signature Balinese bowl, a peanut butter protein bowl, and more! My meal at Shelter cafe was probably one of the most fulfilling ones I had in Bali; it consisted of scrambled tofu (and everything else on the plate pictured above), a chocolate brownie, a Maverick's signature smoothie bowl, and a 'cheese'cake. I couldn't resist myself as everything on the menu sounded equally as good; it's especially hard to control yourself when everything is priced as it is!
What's better than a vegan restaurant in the center of Seminyak, a ten minute walk from your where you're staying? A vegan restaurant that's also a CINEMA! I still can't believe that such an amazing location exists, and what's even more shocking is that I have been lucky enough to visit it. It seemed like more of a fantasy at first, so I didn't expect too much from the restaurant, but the food was delicious—there were many options that reminded me of Grassroots Pantry in Hong Kong—and the service was great. It was difficult to decipher what I was eating when the lights were off, but everything still tasted amazing. I shared two appetizers—the raw, riceless sushi (sounds weird, I know) and the satay tempeh—and they were quite filling, but of course I had to try a bit of everything, so I also had a carbonara (with coconut 'bacon') as my main, and a vegan banoffee pie for desssert.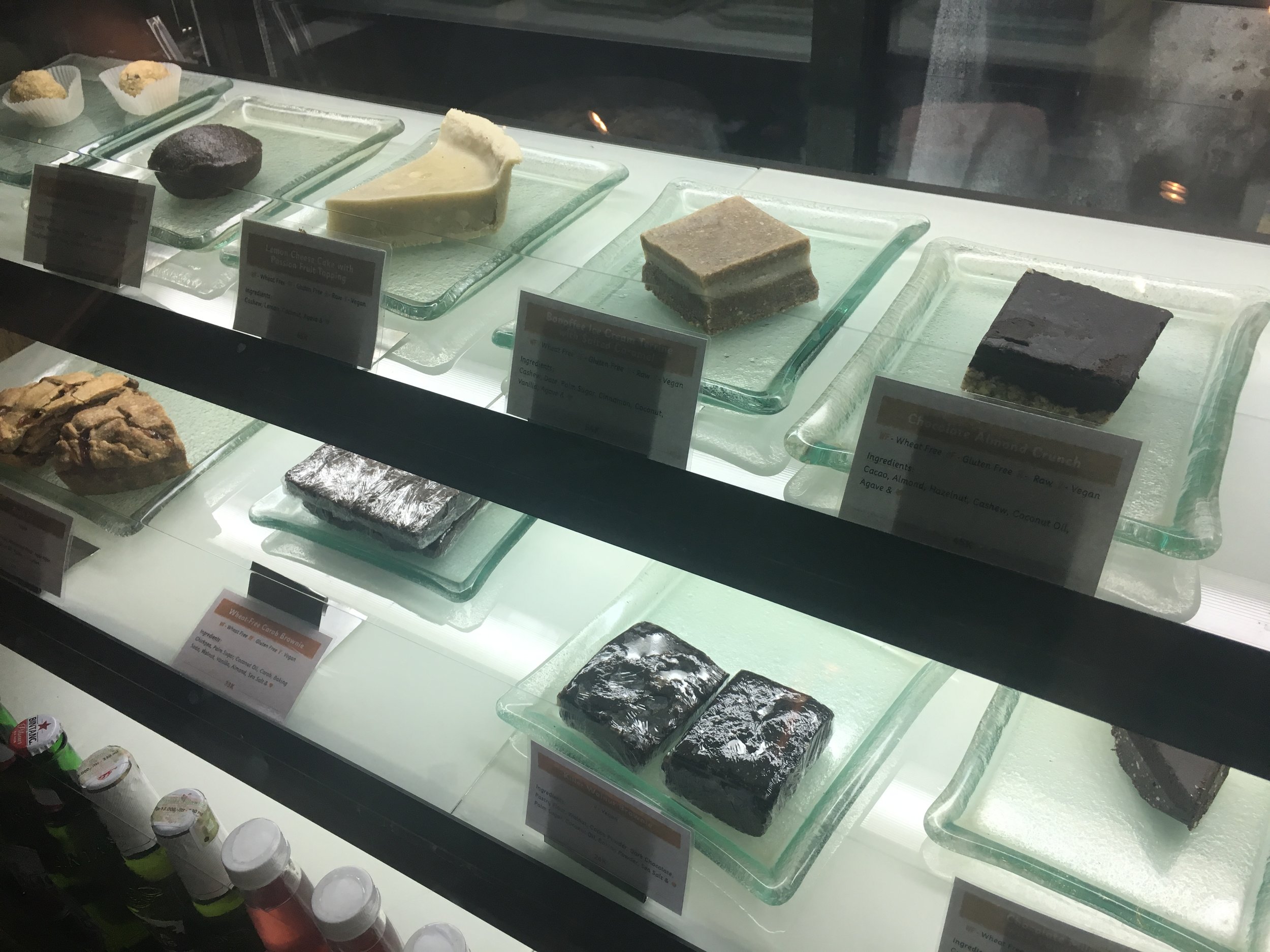 More of Their Desserts on Display!
This restaurant takes gold in the category of spreading positivity and 'kynd'ness through their name, motto, and displays. A perfect place to have breakfast or brunch, this restaurant's popularity amongst locals, tourists, and everyone else can be attested by the long line of daily customers waiting to grab a seat. The presentation of their food is on point with the drizzle of maple syrup on the pancakes, the pink strawberry cream and the palm tree utensils, but what stood out to me the most was their collection of free postcards. On these lovely cards were messages such as "your kynd blows my mind", and above is a sign encouraging you to take one and give it to a friend to spread the love!
Spreading Positive Vibes!
Sea Circus' Beautiful Wall
There's no restaurant with a wall that is more photogenic than that of Sea Circus. I went to this restaurant expecting it to have a fully vegan menu, so I was slightly disappointed upon discovering that there were less options than I had anticipated, but the food was still amazing nonetheless. I decided to give the gluten-free banana flour toast a go as the base for my scrambled tofu, and it was delicious (although there were many mushrooms infused with the tofu). As a last minute order, my friend got the hot lemon tea, and to our surprise, it came in a full tea set —with a tea pot, cups, and everything else you'd expect to find at a tea party—and it was truly an experience. Not the best in terms of service— our food took quite a while to arrive and the waitress looked irritated when we asked about our food—but other than that, it's a wonderful restaurant.
5. MAD POPS
Black Forest and Mixed Berries Ice Cream
At the time of writing, it has been a year since I actually visited Bali (whoops), but I do recall this cup of ice cream being extremely refreshing and delicious. Not only that, but it was also super creamy in comparison to other vegan sorbets or coconut-based ice creams that I've had in Hong Kong. Moreover, their indoor decoration sets the perfect backdrop for Instagram posts and other joys catered to millennials. Although the shop itself small, it's managed to find itself scattered across the internet—renowned for its easily identifiable appearance. They clearly did a great job at marketing their products, and the food definitely did not disappoint!
6. potato head beach club
Looking for a restaurant, bar, music, dance floor, beach, and infinity pool looking over the beach? Potato Head Beach Club has it ALL. Although the food is undoubtedly more expensive that all the other restaurants listed above, this place is definitely worth visiting for its atmosphere and views. When I arrived, the sun was just setting beyond the beach, and as you can see from the cover image of this post, the view was stunning. Because there is hardly anything at sea, the beach acts as a mirror, reflecting the beautiful hues of the sky, and it's as if the ground and sky blend into one. As for the food, there are multiple restaurants to choose from. When I visited, I ate at the Potato Head Lounge and Bar (top) and Pizza Garden (bottom), where the vegan options were slightly limited. The food that I ordered tasted great, but I'd say the emphasis of this location is the experience, rather than the meal. The Kookaburra cocktail is also a must, and if you order tea, it arrives in a full tea set that resembles your typical tea parties…very exciting! Somewhere in the beach club, they also have a stall that sells vegan ice cream (which I was sadly too full to have).
Cauliflower, Smoked Beetroot and Haloumi Salad
Marinated Bali-Alm haloumi, pickled cherry tomato, smoked beetroot, toasted almonds, strawberries, mint leaves and jeruk vinegar. (Ask them to make it vegan)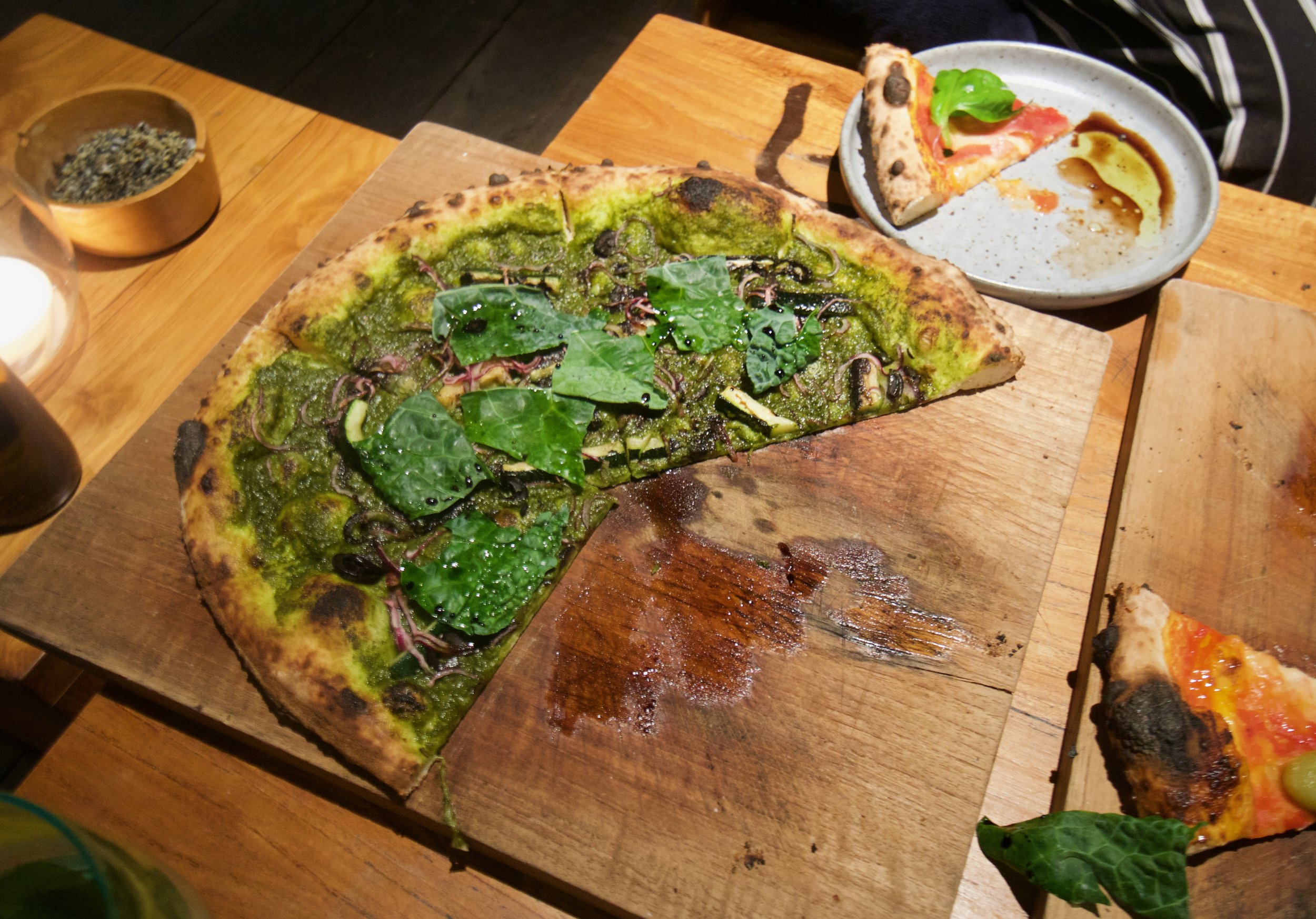 Grilled zucchini, roasted chickpeas, fire roasted peppers, red onion and basil.
Bali is without a doubt one of the most vegan-friendly places I have ever visited. Sadly, due to the perpetual influx of tourists, the cost of food at these vegan cafes is not as affordable as it used to be. However, the variety and atmosphere of all these places definitely make it worth a visit. The hospitality is also generally amazing (as can be seen from the positive vibes circulating around Kynd Community), and I would love to one day visit again.
PIN ME ON PINTEREST: