10 Cheap Vegan Eats in Hong Kong (Below $50 HKD!)
In tandem with my recent Instagram post, I thought it was necessary to combat the misconception that veganism is always expensive. Veganism in Hong Kong should be accessible, attainable, and inclusive. So, in no particular order, detailed below are ten of my favourite eateries in Hong Kong that offer options that are both affordable and enjoyable.
Your ultimate budget-friendly, hole-in-the-wall restaurant, Bafang has outlets scattered across Hong Kong—from Wanchai to North Point to Lai Chi Kok. The fact that it caters to meat-eaters, vegetarians and vegans alike makes it a perfect option when eating out with those who share a variety of dietary preferences. The minimum spending for five dumplings (pan fried or boiled) is $17.5, but if that is not enough to satisfy your hunger, a vegetables dumpling set, which includes ten dumplings and a soup or drink, only costs a total of $36 HKD. Moreover, if you'd prefer a carb base to accompany your dumplings, you can also select the Noodle with Taiwanese Sesame Sauce set, which costs $28. You can add however many dumplings you want to this set, with an individual dumpling costing $3.5HKD.
Tip: If you intend to pay a visit to Bafang, be sure to bring your own containers and utensils! Chances are, they will serve the dumplings in single-use plates, and I'm sure you don't want to create any unnecessary waste.
譚仔三哥米線
Tam Jai Yunnan Noodles
G/F. & C/L., 439-441 Hennessy Road, Causeway Bay, Hong Kong (one of many branches)
Definitely one of my FAVOURITE places for a meal or snack, Tam Jai Yunnan Noodles serves plenty of 麻辣 (numbingly spicy) vegan options. You can find their stores located in most major districts in Hong Kong—including TST, Causeway Bay, and even the airport. I've been ordering the same thing since the pre-vegan days, and that is their spicy cucumber and/or spicy tofu as appetisers, then noodles with a level four spicy soup topped with bean sprouts, tofu puffs and other vegetables. Although the first two are only available as spicy dishes, the best part of the noodles is that you can control the level of spice you want. Their scale ranges from "very spicy" to "not spicy at all", so if you're someone who prefers a clear soup base, you can either select the "not spicy" option. Recently, they also collaborated with Green Monday to introduce a vegetarian-specific noodle dish. With a base cost of $32 (which includes one topping), you can add as many additional toppings as you want for $6HKD each. For me, the final dish often costs $45 HKD.
I admit that not everything here costs below $50 (although some do), but because of King of Sheng Jian's relative affordability compared to other restaurants selling Omnipork dishes, I felt it deserved a mention. They have a vegan set (once again in collaboration with Green Monday) which includes three sections: a main (one option being the Omnipork dan dan noodles pictured above), an appetiser (one option being the two green Omnipork dumplings pictured above), and a drink (I usually just get soy milk). All of this for a total of $68. Alternatively, you can purchase the Japanese curry Omnipork dumplings (middle image) which costs $40 for four. But personally, I don't think they taste as good, nor are they worth the price.
Situated directly across Live Zero, High Street Cart Noodles is a local restaurant that serves up food in typical Hong Kong style: efficient, delicious, and little bit messy. On a sheet a paper, you mark down the type of noodle ($11 each), choice of soup, and any number of toppings ($9 each). Every vegetarian option is labelled with a broccoli icon beside its text, and within five minutes of submitting your order request, you can expect a beautiful bowl of noodles to be placed before you. My noodles have never exceeded $49 HKD, and depending on your budget, you can select the amount of toppings accordingly.

Shop 13, Choi Sai Woo Shopping Centre, 45 Braemar Hill Rd, North Point
Just a short mini bus ride (number 25) from Causeway Bay, Glasshouse is a local eatery that sells the classic Hong Kong style meat dishes, but also a few secret vegan options if you ask. In terms of price, Glasshouse is fairly hit or miss; while the bowl of noodles in the middle costs a decent $47, a plate of plain vegetable rice can cost up to $70 HKD. The mapo tofu rice and string beans pictured above also exceed $70 HKD, so I'm really only recommending the 酸辣豆腐卜米線 (sour and spicy soup mixian noodles with tofu puffs) in this post. This is my go-to, and definitely worth it if you love spicy food!
Wan Chai Rd, 93-99號聯泰大廈2樓 (one of three branches)
I've advertised Loving Hut endlessly on both my Instagram page (here, here, here, here, here, here, here, here and here) and blog (in A Local Guide to Vegan Dim Sum and Restaurant Review series), so forgive me as I do it again—but it truly doesn't get much better than this. Anything you're craving, they'll most likely sell. This ranges from egg tarts, to burgers, to dumplings, to eel rice, or a set meal to have a taste of everything. Although the set meal costs slightly above $50 (at a fair price of $58), I've chosen to include Loving Hut in this post, because you can also eat barbeque 'pork' buns, shao mai, and dumplings for below the price of $50. Personally, the dishes I would recommend the most are the egg tarts, laksa noodles and eel rice, but if you're worried about spending, you can't really go wrong with anything.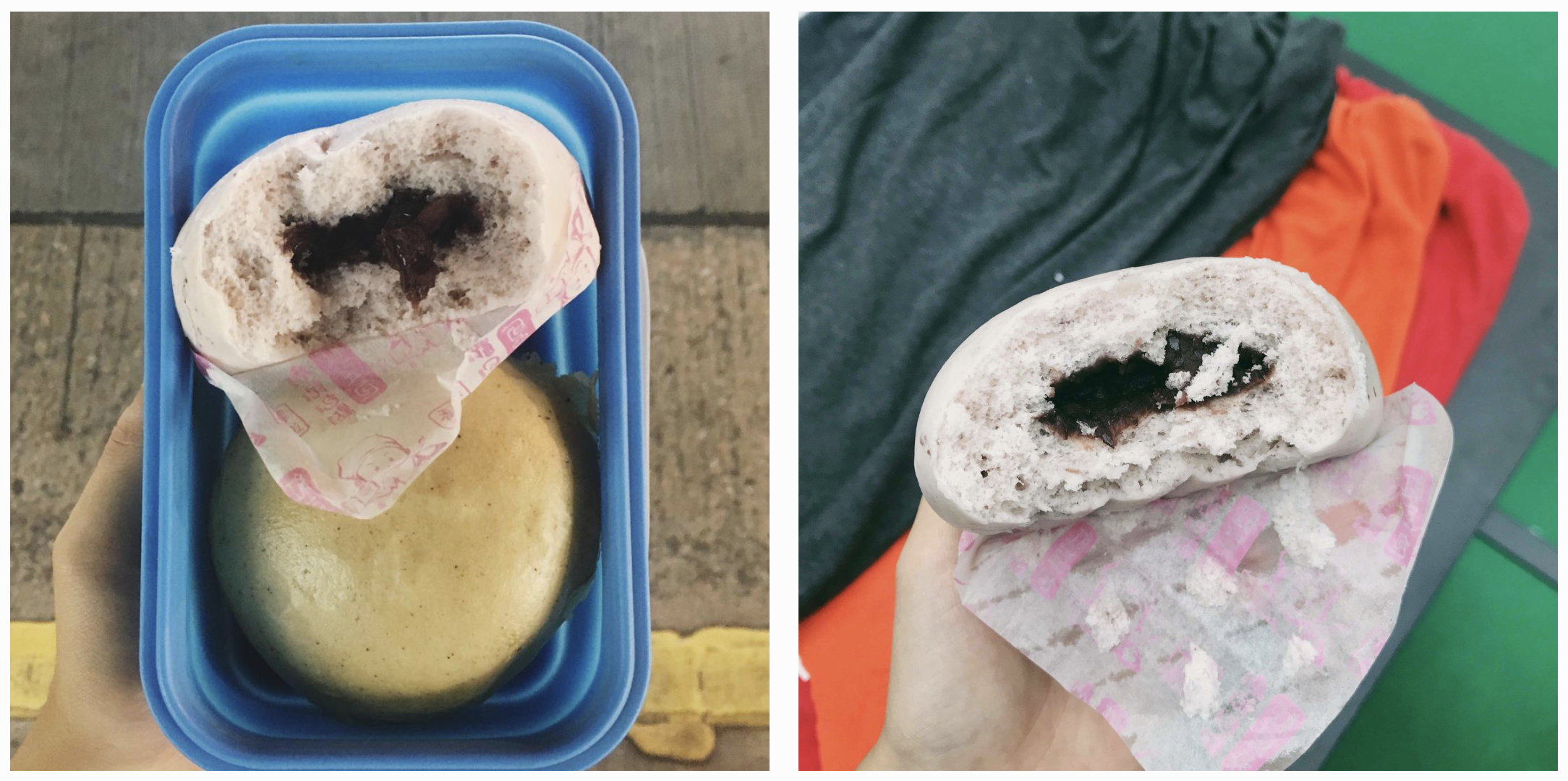 Johnston Rd, Wan Chai (one of many branches)
For those who are on a very tight budget, then Tong Kee Bao Dim is the place for you. Located at and near many MTR stations (including Ma On Shan, Wanchai, Tsing Yi and many more), each bun costs $7 HKD. Keep in mind, however, that many of the buns which appear to be vegan are not. As of now, only the red bean and lotus paste buns are fully vegan, because the sweet potato and lotus paste ones contain butter. Still delicious, though!
Sham Shui Po, Fuk Wing St, 101號號地下 (one of many branches)
I once visited this restaurant at the airport and was pleasantly surprised by the relatively affordable prices. $50 HKD can get you either a Pad Thai (without shrimp paste, prawns and eggs, of course), vegetable curry, or other noodle variety. This is another place perfect for meals that involve both vegan and non-vegan individuals, because there are plenty of options for everyone to enjoy. I really enjoyed all the food I had at Thai Chiu, and the portion sizes were perfect for sharing!
Another great and affordable Thai restaurant is Thai Heng in Kennedy Town. Here, you can order a set lunch for $48 HKD, and individual dishes cost no more than $60 HKD. As with most Thai dishes, you may have to check what ingredients they use to ensure that what you're eating is vegan, but you can always count on the morning glory, vegetable curry and mango coconut rice dessert to satisfy your stomach. This is one of those local run unpretentious restaurants with shared tables and plastic chairs, so while you shouldn't expect the most clean eating experience, you won't be disappointed by the efficiency of service and tastiness of your food.
Hoi King Street 36, Shop 6
Although they pride themselves in being a "superfood delivery service," Blendit tends to appear at many food fairs and veggie events, where you can purchase their fresh bagels alongside a tub of (flavoured) hummus. For example, I had this at the Tong Chong Street Market in December, while I've also bought their bagels at VeggieWorld. They do also have a store in Olympic, which doubles up as a health food store. Some may argue that $40 is overpriced for a bagel with hummus, but considering the density of each bite, I'd argue that since you'll be full in no time, it's totally worth it as your entire meal. My favourite combination is the blueberry bagel + spicy hummus (as pictured above), as the sweet and savoury flavours contrast perfectly to create the most delectable meal—or snack!